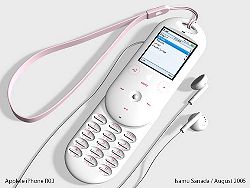 Apple has been known in the line of graphics illustrations and lately music and videos for its iPod offerings in the market as of late. Already being groomed to be at the front of all launched gadgets, Apple is set to join the congested world of mobile phone manufacturing this coming June, 2007.
This early there has been varied criticism and feedback for the planned product expansion market of Apple. This early, there are apprehensions and positive waiting with regards to how the Apple iPhone 8GB will fare in the consumer market of mobile communications.
The iPhone is actually just another feature added to the already famous line of iPods and digital imaging to which Apple has already been tried and tested. Mobile computing is only another dimension with regards to what new features Apple has been studying and trying to develop and the iPhone may be indeed a hit, especially for the avid Macintosh users today.